Hawkinsport
Hawkinsport is currently the Magnet Netball Club's main uniform supplier for both training and competition uniforms. Only the Hoodies (item 4) are ordered independently through your session coach.
Unit 10a, Wessex Road Industrial Estate, Bourne End, Bucks, SL8 5DT
T: 01628 819242
E: sales@hawkinsport.co.uk
You can either visit the shop in Bourne End or order directly using the Hawkinsport web page https://www.hawkinsport.co.uk/
Select CLUBS from the menu line, then 'Other Clubs' and then the 'Magnet Logo'. This will take you to all the products that you can currently buy for the club at Hawkinsport.

Uniform - Training Sessions
(For Competition Uniform a detailed description of the uniform and sizes is given on the Competition Uniform page.)
All members are required to wear the Magnet Netball Club training uniform when attending their netball training sessions.
Exceptions: We allow a 6 week settling in period from your start date with the club before we require you to be in the club training kit so that you have time to make absolutely certain that this is the club for you


PLEASE NOTE:
If anyone is experiencing difficulties in obtaining the uniform from a monetary perspective we do run a Bursary Scheme so please contact the club secretary Annette Allanson by email on CLICK HERE to advise us of the situation.

1. Plain Navy Blue Skort APPROX PRICES: £12 - £15 per skort
(no school or name embroidered) - Size (waist to fit) 22", 24",26", 28", 30" 32"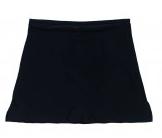 2. Light Blue Polo Shirt with Magnet Logo
£15.50 Junior Sizes (incls club logo)
£19.50 Senior Sizes (incls club logo)
Age 7 – 8, 9 – 10, 11 – 12 straight sides XS, S, M, L shaped sides
Note: printed first name is optional
3. Sports Ankle Socks
Please DO NOT wear trainer socks that do not show above the trainer as these do not protect the feet from blisters and gives no support.
Acceptable Ankle Socks

Materials: 75% Cotton | 23% Polyamide | 2% Elastane
Features: Arch support for good fit & support | Cushioned panels for comfort and support | Flat toe seam to avoid pressure or irritations
We we will also accept:
Gilbert Netball Ankle Socks One Size PRICE: £6 a pair
Features:
Breathable ankle sock.
Designed with heel lip to prevent sock slipping during training and matches.
Elastic mid foot to ensure ultimate fit.

4. Trainers
Please see separate page for information on Trainers.