The Magnet Netball Club coaches are constantly assessing the standards and abilities of all their players, both recreational and competitions groups in order that talented players are always given the opportunity to progress and follow the England Netball Performance Pathway when they reach Yr 8 as U13's.
Note: This means that the Yr 6 and Yr 7's in June 2019 can be invited by the club to trial.
Magnet Netball Club development flow chart:
England Netball Performance Pathway
Academies
The aim of the Academies is to provide training to athletes aged between 12 and 15 who are identified as having potential for progressing up the Performance Pathway. The Academy sessions focus on developing individual skills to help each player to reach their potential.
Athletes are nominated to attend trials by their club coach or in some instances when they have been identified by the Regional Performance Coach.
England Netball has a free online resource to assist nominators identify the attributes and characteristics required by players who are put forward for trials. Link to the Berkshire Netball Academy page
Academies Trials
This year the Academy Trial sessions are take place during June 2018 with the Final Trials Day on Monday 24th June 2019.
The first round of trials for U13's are on 10th and 17th June  (Note: Athletes are only expected to attend one session)
The U14's have already completed their trials.
If you are invited by your club coach you will receive an on-line submission link which will need to be completed no later than 31st May 2019. 
The purpose of the Academy programme is to provide performance-enhancing training for individuals rather than for a squad of players. Competition is seen as valuable and although there is an element of match play within the programme it is essential that all Academy athletes gain match experience through playing netball at club level in leagues and tournaments as well as at school.
Academies will also provide an opportunity for players to be seen by the Regional Performance Coach, and potentially to move up the England Netball Performance Pathway.
Note: The current level for the beep test needed to be considered is Level 8. This must be achieved at the Final Trials.
Current Berkshire Academies 2018/19
Satellite 1 and Satellite 2 athletes have a programme which consists of 30 hours of coaching and match play. County Academy athletes have a programme of 60 hours of coaching and match play.
Throughout the programme there are opportunities for athletes to be seen by the Regional Performance Coach who may invite them to attend Regional Academy sessions. At the end of the programme players are invited to attend the South Region Festival where they come together with athletes from Academies within other Counties in the Region. The South's Talent Scouts are in attendance at this Festival and will select athletes to go on to attend the South Player Development Programme with the aim of identifying athletes to go forward to trial for the Regional Academy.
Satellite 1 (U14)
Lead Coach: Tina Wood
Assistant Coach: 
Venue: The Marist, Sunninghill
When: Monday nights fortnightly 6.30pm - 8.30pm (term time only)
Satellite 2 (U14)
Lead Coach:Kate Maxfield
Assistant Coach: Marina Bowles
Venue: The Marist, Sunninghill
When: Monday nights fortnightly 6.30pm - 8.30pm  (term time only)
County Academy (U16)
Lead Coach: Sarah Feast
Assistant Coach: Tina Wood
Venue: St Neot's School, Eversley
When: Weekly on Thursday nights 7pm - 9pm (term time only)
Club coaches are encouraged to come along to help at these sessions. If you would like to volunteer either on a regular or an ad-hoc basis please contact Sarah Feast via email at berkshirenetballchair@gmail.com
Performance Pathway
The England Netball Performance Pathway is a vital part of improving the standard of competitive netball played in England, with its main aim to ensure an increased number of better quality athletes progressing into the England High Performance programme. The Pathway will act as a "conveyor belt" for high quality English athletes, taking players from 12 -13 years old, all the way through to the Senior National team.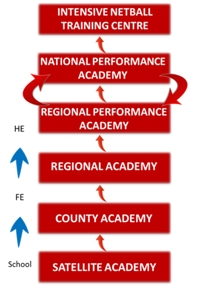 It is hoped that the England Performance Pathway will:-
Increase the amount of direct athlete-coach interaction and time in the Academies, across all the different levels
Provide year round training programmes for athletes
Increase the number of athletes in the U17 and U19 age groups
Increase the competition and formal match-play opportunities for athletes in the Pathway
Educate and develop coaches in the Satellite and County components and support the development of both school and club coaches with a "top down" nationally led approach
Profile and benchmark players on the Pathway to understand their trajectories of development
For further details on the England Netball National Performance Pathway please visit http://www.englandnetball.co.uk/england/England_Performance_Pathway