TEAMO - CREATE AN ACCOUNT
The Magnet Netball Club now uses a new management app called TEAMO.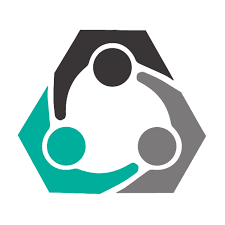 It allows us to manage, communicate and organise our sports club activities anytime, anywhere.
Presently we are using this app to monitor players' availability for training sessions and league matches.
It is quick and easy to create yourself an account and add your daughter at the same time.

To create an account please CLICK HERE
When asked please set for the AGE GROUP your daughter attends e.g. U12, U13 etc
Once you have created an account online you will be able to download the app to your mobile phone from the store.
If you ever want to go back to the desktop version please select this link https://web2.teamo.chat/doQR
Then at the HOME screen of the app press the little icon with your photo on the top left. You will then see this list displayed.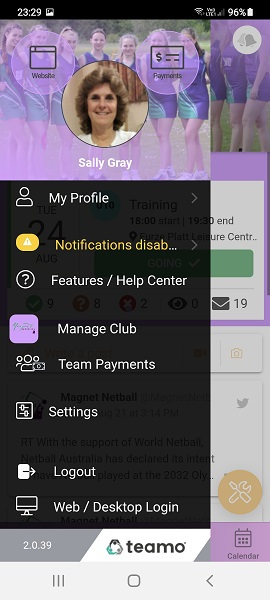 Select Web/Desktop Login and you will be presented with a SCAN QR CODE button.
Select this button and scan it over the QR code that is on your computer.
Once this is completed you will see a BIG GREEN TICK in the middle of your screen and then you will be able to get into the desktop version of TEAMO.
CUSTOMER SERVICES- If you need any technical assistance you can email Teamo on info@teamo.chat

TRAINING SESSIONS OR MATCHES
Go to the Calendar at the bottom right of the app on your phone.
Select the date you wish to update.
To indicate your daughter's availability please select either the TICK, QUESTION MARK or CROSS.
If your daughter cannot attend please can you add the reason when prompted.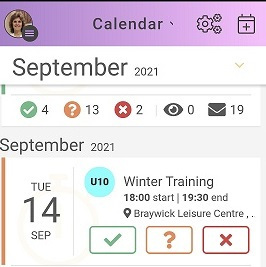 MATCH INVITATION

If you have indicated your daughter is available to play in a match you will be then get an 'invitation to play' as not everyone is invited each time.

You will then need to re-confirm that your daughter can definitely play.
COVID CHECK IN
As play began to get underway this summer (2021), teams and clubs were required to track and trace all players, spectators and social members using their facilities to protect themselves and the wider community.

Teamo PlaySafe offers numerous features which have allowed sports teams and clubs to return to sport in a safe and secure manner that complies with government and governing bodies policies.
* 3 hours before either a Training Session or a Match you will asked to CHECK IN on the Calendar entry for that event.
ADDING A SECOND GUARDIAN

Our recommendations for adding guardians can be found here in our FAQs - https://web2.teamo.chat/features/md/junioraccess
Essentially, the second guardian is best created through the child's account by clicking on the child's profile and then 'add' guardian.

CHATS
It is also possible to send private messages, from within the app, to individuals, to your coach, or to the group that have been selected for a match on a certain day.